7 December 2020
We're backing Police Scotland's doorstep campaign
Doorstep Crime can affect anyone, but most often elderly and vulnerable people are targeted.
Queens Cross Housing Association has been working closely with Police Scotland to try and prevent our most vulnerable residents becoming victims of doorstep crime. We'll be carrying out our doorstep campaign in your area from 7 – 11 December.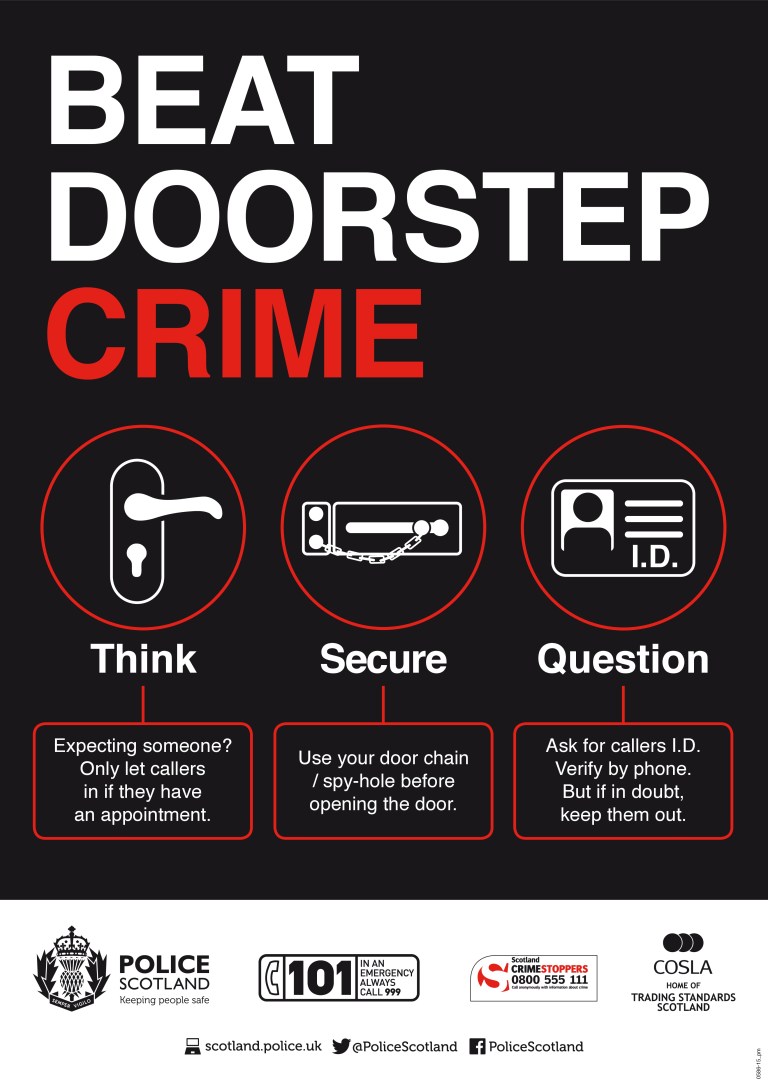 Below is some guidance should you find an unexpected visitor or caller to your home. There are two main types of callers to be aware of:
Bogus callers
Bogus Callers try to get into your home or obtain personal details by pretending to be someone they are not, including:
Council staff
Meter readers
Charity collectors
Police officers
They are criminals trying to steal cash and valuables.
Rogue traders
Rogue traders usually cold call, offering to make repairs or carry out work on your house, garden, or driveway. They charge inflated prices for shoddy or often completely unnecessary work.
We DO NOT recommend dealing with cold callers for property maintenance and repairs to your home and garden areas. Contact your local council to see if they have a Trusted Trader Scheme in your area where you will find a list of accredited trade's people.
Think!
Be on guard if someone turns up unexpectedly
Be aware of methods used by criminals to distract you such as being asked to make a telephone call, to use your toilet, for a glass of water or being asked to check water or gas supplies
Don't keep large amounts of money at home
Do your premises or garden really require work to be carried out?
If it sounds too good to be true, it probably is
Be vigilant for vulnerable neighbours who may fall foul of these criminals
Never let someone you do not know into your house. If you are not sure, don't answer the door.
Secure!
Use a door chain or bar. Always put the chain on before opening the door and keep it on while talking to callers.
If you do not have a door chain, check who is at the door from the nearest window
If you have a security spyhole; use it to check who is at your door
Keep rear, side doors and windows secure. It may be easier for someone to gain access while you are answering the front door
Don't feel embarrassed - genuine callers expect you to be careful
Question!
If you answer the door, ask for ID, whether you expect anyone or not
Remember - IDs can be faked and should not be relied upon
Don't assume a caller is genuine because they are wearing a uniform
Ask a friend or neighbour to be available to help if you need them
Obtain a written quote before agreeing to have any work completed
If you have any doubts, tell the caller to come back when someone else is home. Genuine callers will not mind rearranging
If in doubt, keep them out!
Criminals who commit doorstep crime are very convincing, believable and take advantage of the most vulnerable/trusting people often in their own homes.
Remember, utility companies have the option of setting 'personal passwords', which are quoted when they need to attend at your home. Ask your utility company about this service.
If I feel threatened, unsafe, or suspicious of a caller?
Contact the police immediately on 999
If I see something suspicious in my area, or want more advice about doorstep crime?
Contact the police on 101
Try and take a note of vehicle details or registration numbers and descriptions of anyone suspicious
If I want to contact the police anonymously?
Contact the independent charity Crimestoppers on 0800 555 111. You can also visit its website at www.crimestoppers-uk.org.