22 February 2022
Get involved to make a difference in Queens Cross
Queens Cross is looking for a new generation of Board Members to help drive improvements for local residents and businesses.
The Queens Cross Group of four organisations is looking for new board members to help us provide affordable, high quality homes, drive job creation, manage private properties effectively and increase life chances for local people.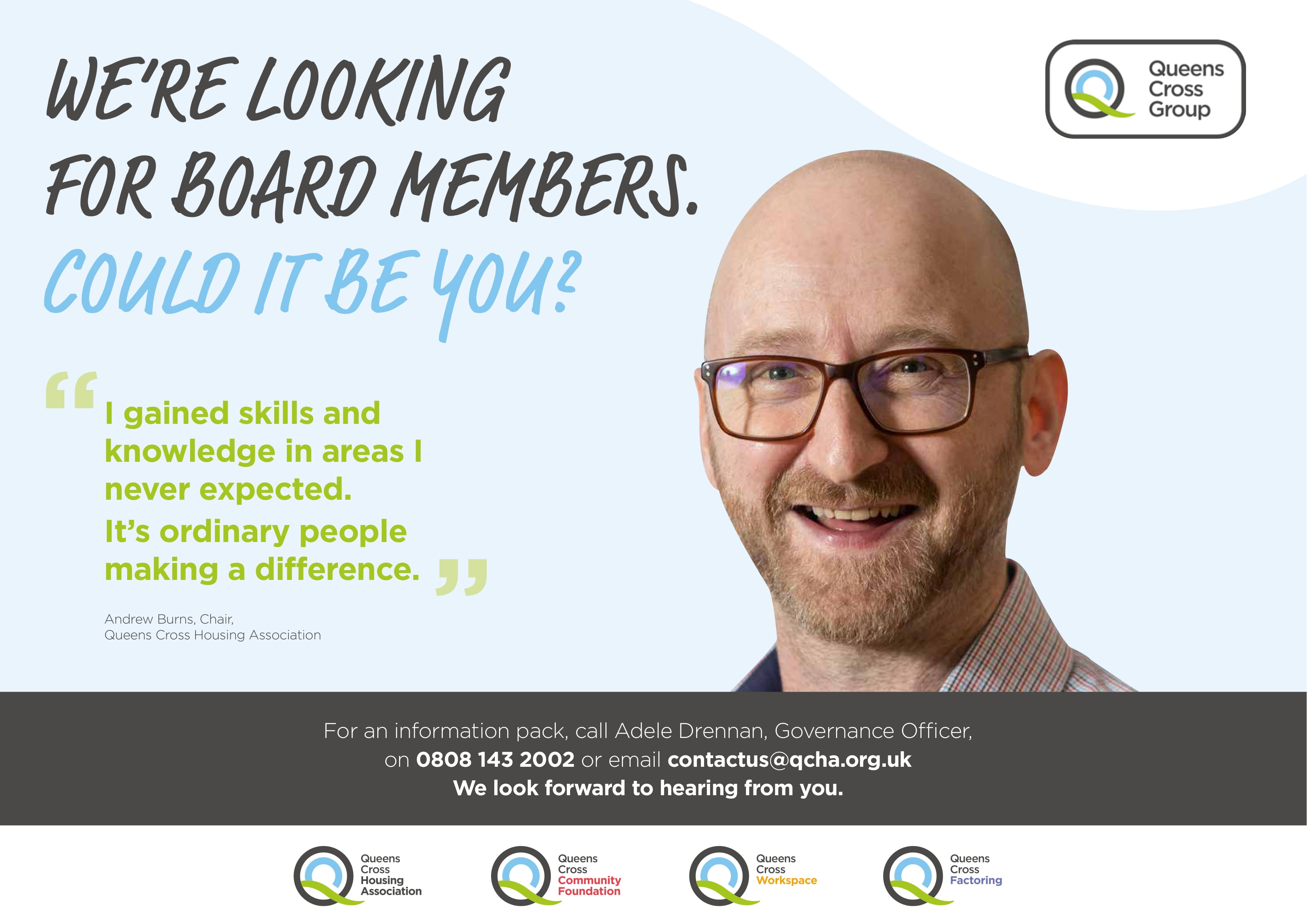 New board members are required for Queens Cross Housing Association, Queens Cross Workspace, Queens Cross Factoring and the Queens Cross Community Foundation as well as the wider Queens Cross Group Board.
"We are looking for people who have excellent local knowledge and experience as well as those with specific skill sets. Fundamentally however, we are interested in anyone who has a passion for improving the lives of people who live in north Glasgow," said chief executive, Shona Stephen.
"This is a chance to have a real say in the direction the Group takes in the future and to have real influence on what shape the area takes over the next few years. Together the Group is much bigger than the sum of its parts, able to leverage funding and influence from elsewhere in the city and beyond to improve employment and training opportunities, deliver environmental projects and drive housing improvements."
Boards are required to meet once a month or every two months to take strategic decisions that determine the best course of action to support local people.
Each arm of the Queens Cross Group has a varied function supporting local communities. Queens Cross Housing Association manages around 4500 homes in the area and Queens Cross Workspace manages more than 100 commercial premises; Queens Cross Factoring looks after more than 2500 private residences locally, and the Queens Cross Community Foundation offers up small grants to improve the lives of local people.
"We have a wide range of roles available with different opportunities. As well as a way of getting involved in improving the local area, it is also an excellent way of widening your skill set, meeting new people and building networks for your own career progression," said Shona.
"This a great opportunity for anyone who wants the Queens Cross area to grow into one of the best places to live and work in the city."
Intersted in getting involved? Come along to our information event on Thursday 24 February and see if it's for you. Sign up here.
Find out more about what Board Member opportunities are available at the Queens Cross Group by contacting Adele Drennan, Governance Officer, on 0808 143 2002 or by email on contactus@qcha.org.uk.