7 September 2023
Transformational environmental works start at Queens Cross
Work has started on a £3 million environmental improvement project to transform the public spaces around the Cedar high rise flats at St George's Cross in Glasgow.
The Woodside Making Places project is being delivered by Queens Cross Housing Association and supported by additional funding from the Scottish Government through Sustrans Scotland's Places for Everyone programme.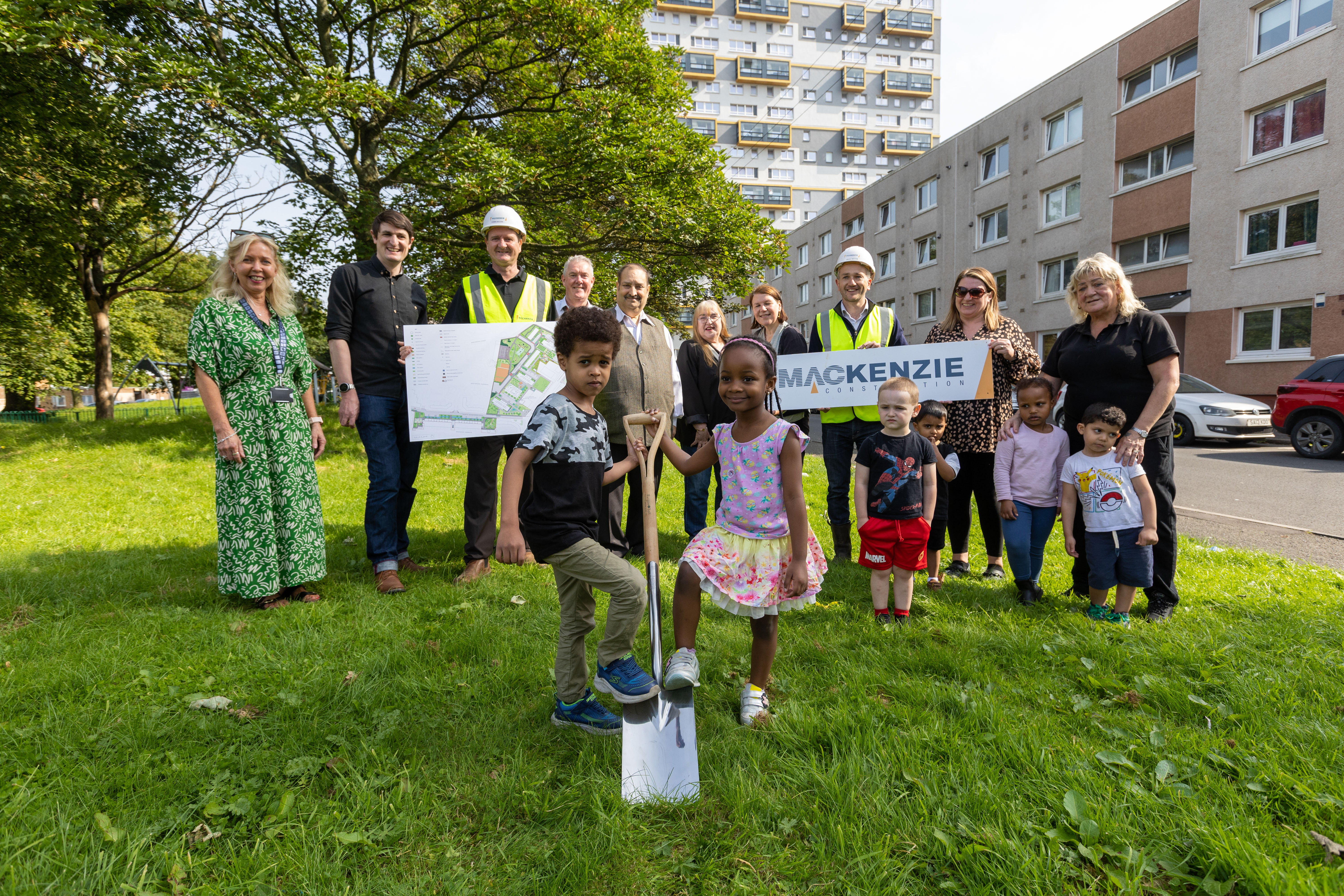 The vision for the project is to improve the streets, green spaces, play parks and courtyards of the area. This will create an attractive, multi-functional green infrastructure network with integrated cycle routes, biodiverse habitats, sustainable rainwater drainage, vibrant doorstep play and allotment areas.
Work will focus on improved pedestrian crossings and construction of new raingardens to use run off water to maintain attractive wildlife-friendly spaces. New paving will be installed, new trees planted, streetlighting improved, along with streetscaping, street furniture and new cycle stores.
Phase 1 of the project will focus on the area to the west of St George's Road. Phase 2 plans for the area around east Woodside are currently still being finalised.
Construction is likely to be completed by late 2024.
Chief Executive Shona Stephen said: "Public consultation around this project started in 2020 and after covid delays I'm delighted it is finally underway. We have invested heavily in upgrading the interiors of the Cedar flats and when this renewal of public realm, gardens and greenspaces, including streets and lighting, with green infrastructure improvements is complete, it will be the finishing touches to making this area one of our most popular and desirable neighbourhoods."
Minister for Active Travel Patrick Harvie said: "I'm pleased to welcome the start of the Woodside Making Places improvements, delivered by Queens Cross Housing Association. Building on the new walking, wheeling and cycling paths, delivered through the wider Connecting Woodside programme, these works will improve local amenities and create healthier and happier spaces for people to enjoy.
"We want more organisations, right across Scotland, to be able to realise their ambitions for active travel and make their communities more attractive places to live, work in and visit. This transformation can only happen through sustained investment.
"That's why the Scottish Government has committed to investing £320 million, or 10% of the total transport budget, on active travel in 2024-25."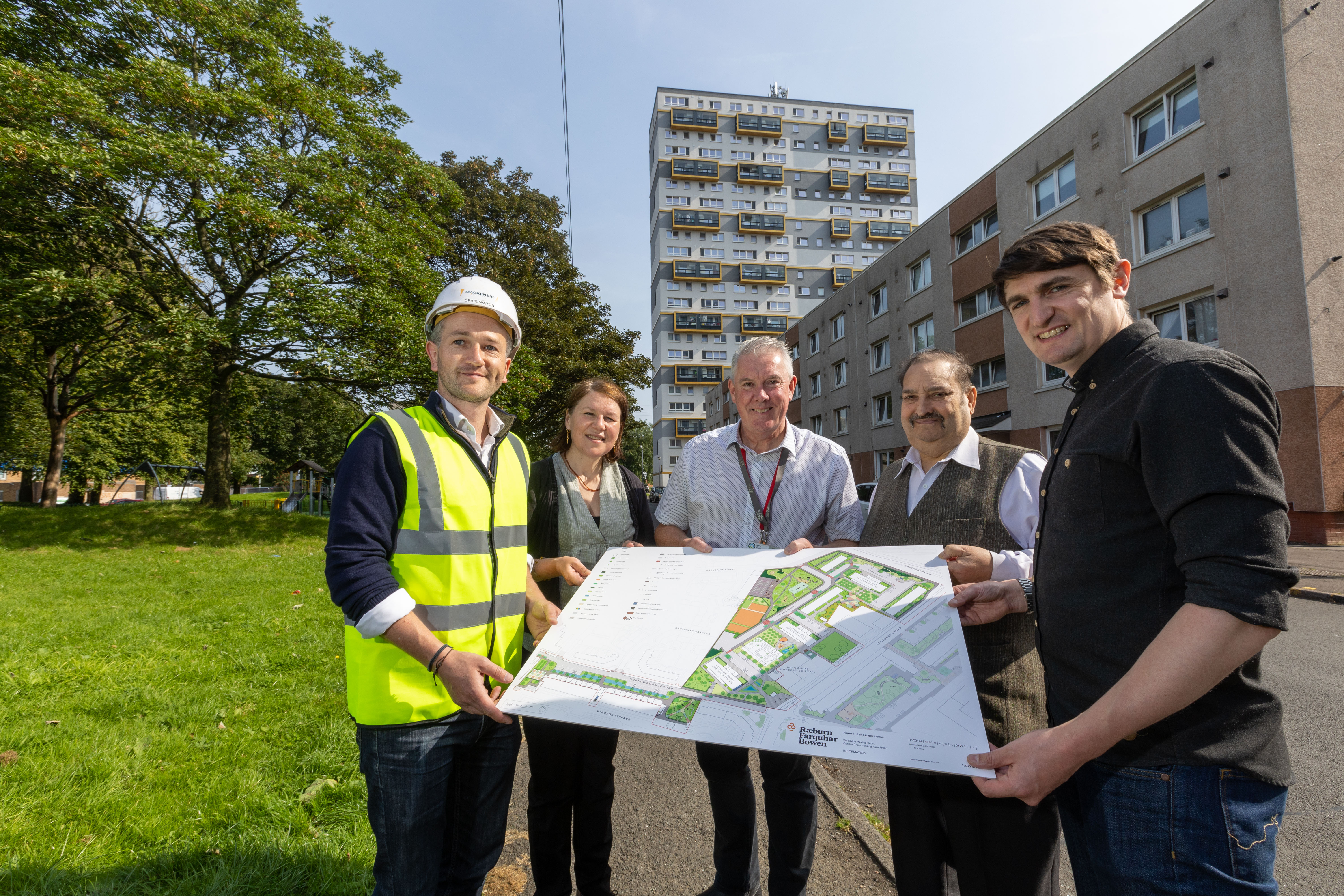 Head of Programme, Places for Everyone, at Sustrans Scotland, Simon Strain, added: "We are so pleased to see work start on Woodside Making Places.
"This Queens Cross Housing Association led project adds value to our ongoing partnership with Glasgow City Council to improve the area for people walking, wheeling and cycling. We have already seen major improvements on Garscube Road, with much more still to be delivered.
"Making Places will take these changes right to the heart of the community, delivering a functional network of paths and enriched greenspace, transforming the area and ensuring residents can feel the benefit of the wider investment.
"The local community have been vital in the development of this project, and we hope that when complete it will be a well-loved space that makes it easier and safer for everyone to make healthier, happier and more sustainable choices for their everyday journeys."
Making Places is adding value to the wider Connecting Woodside project, which is linking Woodside/Woodlands to Sauchiehall Street, the Forth and Clyde Canal and regeneration work at Port Dundas and Sighthill via safe, segregated active travel routes. The aim of Connecting Woodside is to work with the community to improve local streets and public spaces for walking, wheeling and cycling.