New Developments
Queens Cross is a popular and desirable area to live and work. And here are some of the latest home and neighbourhood developments in the pipeline.
Please note that the homes on these pages aren't available for rent until they're completed. But you can visit our Homes for Rent page to find out how to apply for properties currently available.
Hamiltonhill

A masterplan has received planning permission in principle for 600 homes to be built at Hamiltonhill, creating a new community.
Leading Scottish construction firm Robertson Construction Group will deliver the masterplan proposals, with Robertson Partnership Homes building the first 175 social housing units in partnership with Urban Union, who will deliver a further 26 homes for sale as part of Phase A.
The overall area will see a mix of medium-rise flats and cottage flats for smaller households and older people, and terraced housing for larger families.
Parks are planned throughout the development including an enhanced play park and a new community park.
Rona Anderson, Director of Property, Enterprise and Regeneration said, 'The regeneration proposed for Hamiltonhill is a large-scale and complex project, with significant challenges and opportunities.
'We are grateful to Glasgow City Council for their decision to transfer vacant sites to the Association at a cost of £1, which is an important piece in the jigsaw required to make this project viable. Without the support of GCC, we wouldn't be able to deliver our shared vision for the future of Hamiltonhill.'
Burnbank Gardens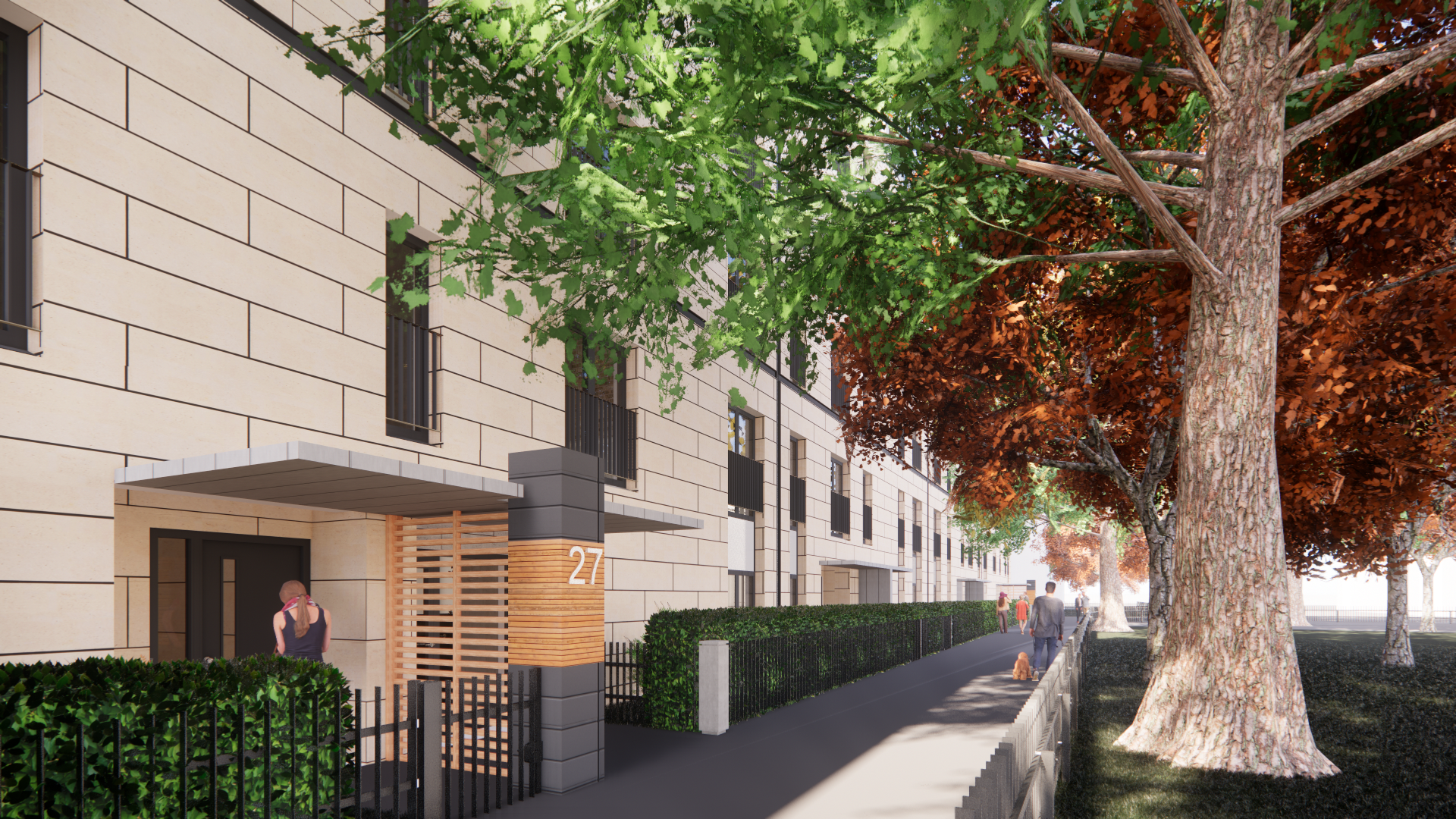 Queens Cross and Glasgow West housing associations are planning to build 48 one and two bedroom flats specifically suited to older people in Burnbank Gardens, just off St George's Cross.
Burnbank Gardens is a crescent of Victorian town houses and tenements set around a communal garden, and is part of the Glasgow West Conservation Area.
The new development will replace a derelict hostel built in 1961 and currently owned by Glasgow City Council. The associations are working closely with the council to acquire the site and hope to secure funding for the project from Glasgow City Council and the Scottish Government's Affordable Housing Supply Programme.
Each upper floor of the block will have a sun-deck and balconies for residents to socialise in the fresh air, whilst the ground floor has a communal landscaped garden. The six-storey building will be designed using materials that will blend in with the Conservation Area character.
The completed flats will be divided equally between the housing associations.
Woodside Making Places

Preliminary designs have been put forward to transform areas including Oakgrove, Braid Square and Windsor Terrace.
Environmental work will include new green spaces, tree planting, streetscaping and new street furniture. Imaginative outdoor playspace for younger residents is also a key feature.
The designs for the areas are the next stage in the £3 million 'Woodside Making Places' initiative, which was launched with a public consultation event in January 2020. The project's happening in parallel with Connecting Woodside, which will create better active travel connections like cycle paths through Woodside and to the city centre.
The association are looking for local residents to give their views on the new proposals. You can see the new designs and leave feedback at www.woodsidemakingplaces.org.uk.